A Voice of Reason...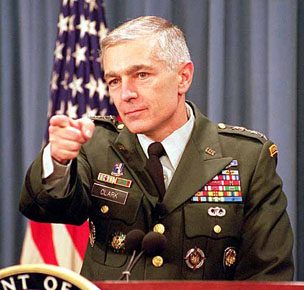 "The growing chorus of voices demanding a pullout should seriously alarm the Bush administration, because President Bush and his team are repeating the failure of Vietnam: failing to craft a realistic and effective policy and instead simply demanding that the American people show resolve.
Resolve isn't enough to mend a flawed approach
--
or to save the lives of our troops.
If the administration won't adopt a winning strategy, then the American people will be justified in demanding that it bring our troops home."
General Wesley Clark
Oh, and if you think everyone in the military supports Bush and his lies, think again. The Bush people were apparently pretty upset with a bunch of Vets during Bush's War speech at the VFW National Meeting last week. No commentary necessary... just check out the image below. Military guys are great... they know how to deliver shots that really sting...